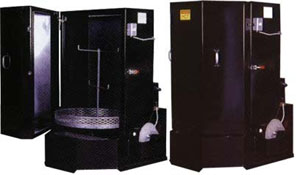 HARRIS TOOL COMPANY MODEL NO. WA-TR 30 X 54 FRONT LOAD MEDIUM DUTY WASHER WITH FOLLOWING MACHINE SPECIFICATIONS:
15 MIN. SPRING WOUND TIMER OPERATED STAINLESS DISC TYPE OIL SKIMMER
4.5KW ELECTRIC HEATER
TANK DEBRIS SCREEN(170 SQ. IN.)
2 HP SELF PRIMING CENTRIFUGAL PUMP W/DOWN SUCTION SPOUT(92 GPM @ 16 PSIG)
60 MIN.SPRING WOUND WASH TIMER
THERMOSTAT SWITCH W/ 175 DEGREES F SETTING
22 SPRAY JETS
50 GALLON CLEANING SOLUTION TANK
500 LB. LOAD CAPACITY
1/15 HP GEARMOTOR/WIRE WHEEL DRIVEN 30" DIA.TURNTABLE BASKET W/ PARTS RING & STANDARD BEARING DESIGN
208-240/60/1 ELECTRICAL REQUIREMENTS
14 GAUGE TANK & CABINET STEEL PLATE MATERIAL
HINGED DOOR W/ HANDLE, LATCH, SAFETY SWITCH, & MECHANICAL SEAL(NO RUBBER GASKETS TO WEAR OUT)
2 ½" DIA. CASTERS
54" INSIDE & 78" OVERALL HEIGHT
44"W X 43"D FLOOR SPACE REQUIRED W/ DOOR CLOSED
REMOVEABLE PARTS TREE & BASKET
PRECAUTION BLUE PAINT
750 LBS. SHIPPING WT.
HARRIS TOOL COMPANY MODEL NO. WA FRONT LOAD WASHER OPTIONS:
6" DIA. CABINET VENT W/ INSIDE FLAP PLATE
24 HR./7 DAY HEATER TIMER
24 HR./7 DAY OIL SKIMMER TIMER
INTERMEDIATE SPRAY BAR W/ JETS
INTERMEDIATE SPRAY BAR W/ SPRAY JET NOZZLES
AUTOMATIC WATER FILL
REMOVEABLE SECONDARY TURNTABLE
TURNTABLE JOG SWITCH
SPRAY JET NOZZLES
SS CABINET, DOOR, TURNTABLE, PLUMBING, PARTS TREE, & BSK